DOUBLE DUTY MAKEUP BRUSH KIT
Regular price
Sale price
$36
Unit price
per
4 Dual-Sided Makeup Brushes Curated for Convenience
WHAT IT IS

Tackle any makeup look with ease using our dual-sided Double Duty Makeup Brush Kit. Curated for convenience, it includes four brushes:

Complexion Brush (For Foundation or Tinted Moisturizer + Concealer)

Powder Brush (For Cheek Products + Powder)

Eyeshadow Brush (Small + Large Shader)

Brow Brush (Spoolie + Angled Flat Brush)
INGREDIENTS

All of our brushes are made with synthetic bristels and are vegan and cruelty free.
HOW TO WEAR

All brushes have dual function and can be used for both powder and dry products. Each brush is labelled with its intended function on the handle of the brush.

The brow brush can be used to shape and fill. First, use the spoolie end to shape brows in an upward motion in the direction of your hair. Second, follow the shape of your brows to fill in your hair.

The eye brush can be used to apply and blend products. First, apply color to the lid of your eye by packing eyeshadow onto the lid. Second, blend your eyeshadow using a windsheild wiper motion from the outer crease towards your tear duct.

The brush kit comes with two face brushes. One is for powder and cheek products and the other is for foundation and concealer products.

With the powder brush, apply your powder using a loose sweeping and bouncing motion. With the cheek brush, apply blush and highlight to your cheeks in an upward sweeping motion.

With the foundation brush, apply your foundation using a circular sweeping motion. With the concealer brush, place and blend out concealer using a sweeping motion.

To clean your brushes:

1. Firmly hold the brush at the barrel. Note: Holding the brush at the barrel and not the handle will prevent the glue from loosening between the two.

2. Swirl the brush head downwards in a circular motion using your soap or cleansing solution.

3. Rinse out the brush head.

4. Repeat until your brush rinses clean of soap.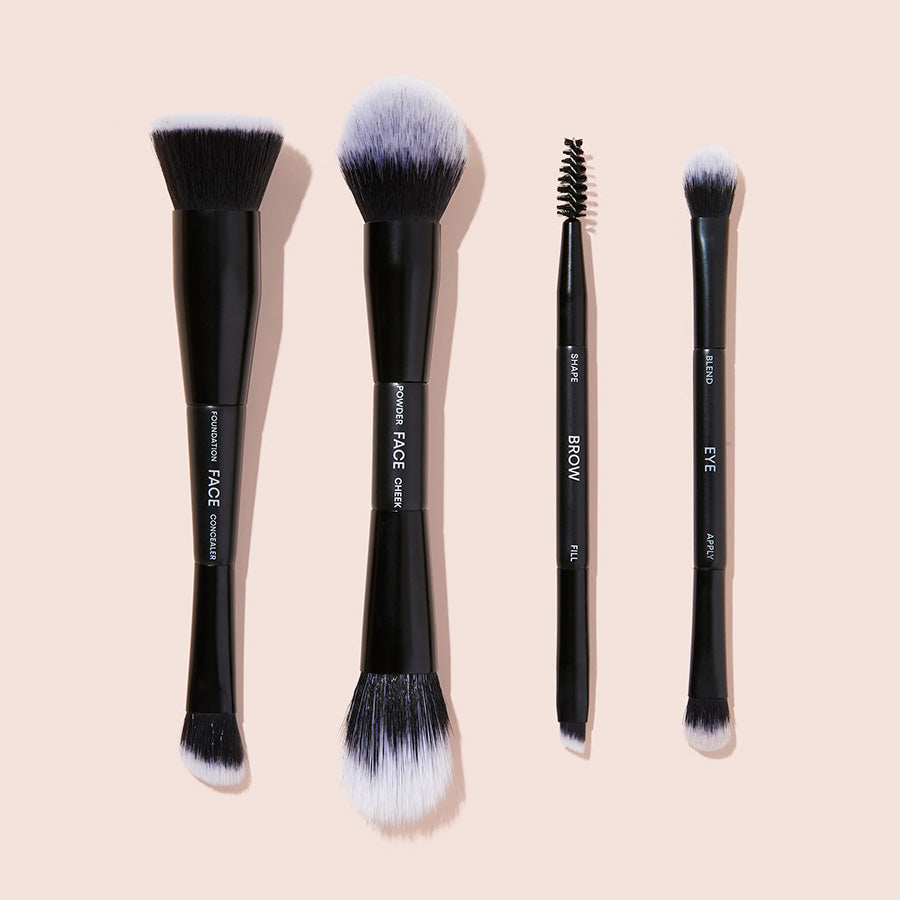 VIRTUAL TRY ON TECHNOLOGY
By clicking this, I agree to use The Lip Bar's Virtual Try On (VTO) technology (*see details below). Your image will be used to provide you the Virtual Try On experience to help you find the best products for you.
In using the VTO technology, I understand The Lip Bar does not receive, store, or save the image or any components thereof, or use the image for any other purpose. Because VTO operates solely within my own device browser, the data is deleted after the experience ends according to my browser settings.
Learn more about The Lip Bar's privacy policy at https://thelipbar.com/pages/privacy-policy.